Published by Jessie Moore
The Beginning – Dr. Loftin's Journey to Lumina Wellness & Aesthetics
Having grown up in San Antonio, Dr. Keisha Loftin has a special love for the Alamo City. Her father was in the military and worked as a security officer at Lackland AFB. Dr. Loftin explains, "He instilled a strong work ethic in me,  and I continue to follow that to this day." This is quite evident when you meet Dr. Loftin and listen to her words, her vision, her advice; you can see her smile is filled with an abundance of happiness because she is living her dream as she shares her talents with patients from all over San Antonio and the neighboring cities.
Dr. Loftin details her past and how it has affected her career path. "Being in a military family, we moved a lot, so I developed strong adaptability skills over time. While being stationed in Nebraska at the age of 12, my mother was pregnant with my youngest brother. The beauty and science related to 'new life' sparked my interest in OBGYN and medicine." She continues, "I was also influenced by seeing a positive example of the character Cliff Huxtable, a Black OBGYN on the successful sitcom-The Cosby Show. From that moment on, I wanted to be an OBGYN. From my teen years through college, I never deviated from that path."
She continued on with college and then applied to medical school and was accepted at UTHSCSA. After medical school, Dr. Loftin applied for graduate training programs and was accepted at UCSF-Tampa for her OBGYN training. She always had a desire to return back to San Antonio to live and work in the city where she grew up. "I was blessed to join Dr. George Hilliard at South Texas Women's Healthcare. This is where I started my OBGYN practice. The practice was a great fit for me, and I enjoy working in the field where I can take care of women of all ages, both surgically and through their childbearing years."
While Dr. Loftin was in medical school, she started to think about how to combine a medical office with a calm, serene, peaceful spa-like experience. Since she always enjoyed going to spas, she wanted to provide this service to her future patients. This was in fact, her life-long dream.  Dr. Loftin says, "The idea of a medical spa remained in the back of my mind and then I started seeing evidence of the concept being demonstrated in 2001. I actually would look at magazine articles regarding medical spas and it excited me. It was definitely a hope I always had. I wanted to have a practice that combined both women's healthcare and medical spa services."
As Dr. Loftin continued to work diligently and built her practice from 2003 through 2017, her dream was about to become a reality. In July 2018, the founder-Dr. George Hilliard retired and Dr. Loftin took over the entire practice. "We ended up having an extra suite across the hall from the main office and it dawned on me that this was an opportunity to realize my dream. I came up with the name and developed the concept of Lumina Wellness Center. Lumina means 'light'-the idea was to create a space where I could see women and men and assist them in optimizing their health and wellness in new and innovative ways in order to 'see themselves in a new light' and that is when Lumina Wellness & Aesthetics was born."
The Beauty of Lumina Wellness & Aesthetics
Besides striving to be a leading provider of innovative health, wellness, and aesthetic services in San Antonio, Dr. Loftin and her team take the extra time to get to know the patients. "I always listen to my patients and make sure that I have the time to get to know them so I can understand what they want to achieve in terms of overall wellness and aesthetics. Each patient has a very individualized plan because each patient has specific wants and needs. I take the time to understand each patient and exactly what they want to achieve."
Lumina Wellness & Aesthetics has a patient-centered focus from the lead doctor and owner, Dr. Loftin to the entire team that is there for you every step of the way. The four main areas of focus are:
. Urinary Incontinence
. Sexual Wellness
. Hormone Replacement Therapy
. Anti-Aging Treatments
Her medical spa is continuously evolving with new products being introduced in the medical marketplace.  Dr. Loftin is certified to perform all procedures and had to take courses in order to be trained. As she likes to say, "Before I move forward with a procedure or product, I always try it on myself first." Dr. Loftin explains that it is particularly important to "be a product of my product." And as a result of practicing this philosophy, Dr. Loftin not only knows how to do all of the procedures — she has tried the procedures and has seen and felt the difference. And she is remarkably satisfied with the end results.
Sharing her words of wisdom, Dr. Loftin sees demand for BioTe, the O Shot, and the Emsella chair for incontinence. While the O Shot has been available in the United States for about seven years, awareness of the procedure has started to grow in San Antonio and the surrounding areas. "PRP (Platelet Rich Plasma) is widely used in the orthopedic and dental world in regenerative medicine. It is amazing to see its results in women's intimate wellness through the O shot. It's a natural way to improve dryness and a non-surgical way to treat incontinence. Over 50 percent of women suffer from some type of intimacy dysfunction and or bladder dysfunction. I am excited to be offering office treatments that can help in both of these areas."
Dr.  Loftin shares a story about how her first offering at Lumina Wellness & Aesthetics was  BioTe. "This novel hormone replacement therapy is simply amazing; I couldn't believe that I hadn't been aware of its presence before 2018. I went to my first training course and it was eye-opening for me. I learned so much in that course and I was so excited to come back and start helping people with this treatment. I truly have seen how women's lives changed and improved above and beyond what I had been able to provide for over 15 years with conventional hormone replacement therapy."
At Lumina Wellness & Aesthetics, medical-grade supplements complement the BioTe method of optimizing hormones. Special attention is made to evaluate key vitamins and nutrients that are key in optimizing your body's wellness and overall cellular function. Dr. Loftin chose to recommend Thorne nutraceuticals-a solid company producing medical-grade supplements. They are environmentally friendly, they certify product purity by conducting four rounds of testing for potency and purity (while most competitors test only once or twice), and they are NSF certified for Sports. Dr. Loftin adds, "In the future, I plan to expand on the skincare line and offer a variety of safe, holistic, medical-grade skin care products for anti-aging and skin protection."
The anti-aging treatments that Dr. Loftin performs stem from the field of regenerative medicine-using PRP.  Platelet Rich Plasma is made from your body's own blood cells and when concentrated with your body's platelets, this becomes a medium that is rich in bioactive proteins.  This mixture triggers the release of seven different growth factors to stimulate cellular regeneration, new blood vessel formation, collagen production, and accelerate tissue repair. Those tissues become "younger" with improved functional potential. Within minutes, your body is on its way to repairing itself.
Popular regenerative skin treatments include the Vampire Facial, Vampire Breast Lift, and PRP Hair Restoration. The Vampire Facial utilizes the SkinPen-an FDA approved microneedling device that has multiple microscopic needles that penetrate the surface layers of skin and naturally stimulate collagen production. Your body's physiological wound response stimulates new healthy dermal and epidermal tissue growth. When you add PRP to that, you achieve even better results of skin rejuvenation:  smoother, healthier, plumper skin, reduction of fine lines and wrinkles, and reduction in acne scarring. With the Vampire Breast Lift, the PRP is directly injected into the breast tissue. When these growth factors enter the breast via injection, many types of stem cells in the fat become activated to grow new tissue. This new tissue includes new collagen, new fatty tissue for smoothness, and new blood vessels for a healthy glow. The procedure ultimately enhances cleavage, improves skin texture, and enhances skin sensation to the breast and nipples.
Another cutting edge treatment area that Dr. Loftin uses PRP in is Hair Restoration. She explains, "In the same way as it is used in other parts of the body for regenerative medicine, PRP is used in the scalp to naturally stimulate healing and growth of the hair follicles to provide a natural way of helping hair grow. At Lumina, we complement this treatment with plant-based hair supplements as well as offer the ability to use Low-Level Laser Light Therapy to the scalp to further enhance a client's results."
World Class Customer Service For Aesthetics and Wellness
Dr. Loftin is the type of physician that aims for the stars. She believes that it is extremely important to educate her patients so that they understand the treatment options and they have reading material to take home with them after the initial consult. "I want each one of my patients to go home and really understand what is going on with them and how I can help them."
Being an OBGYN physician, she emphasizes how Lumina Wellness & Aesthetics complements what she does in her practice. Her years of practice and experience have helped her progress to the next level of her success. This success is shared with each patient that walks through the doors. "We welcome all patients here at Lumina Wellness & Aesthetics and I enjoy helping both women and men achieve a better quality of life every single day." Dr. Loftin is fluent in Spanish which is an added bonus. She speaks Spanish in her OBGYN practice as well as in her personal life. She welcomes and looks forward to helping Spanish speaking patients at Lumina Wellness & Aesthetics as well.
Looking ahead, Dr. Loftin will continue to reach for those stars. She is working towards becoming one of the top providers of rejuvenating medical treatments as well as intimate wellness treatments for women. She also wants to continue to provide world-class patient service, state of the art obstetrics, gynecologic, and now anti-aging and wellness care for the women and men of San Antonio and the surrounding areas.
After meeting Dr. Loftin, it is quite obvious that she loves what she does. All you have to do is see her smiling face and hear her uplifting words. In fact, there is a sign in her office that is hanging on a wall. It says- "This Is My Happy Place". And you can tell that she is genuinely happy helping those in both her OBGYN practice as well as Lumina Wellness & Aesthetics. Her golden opportunity of having a medical spa in her medical practice came true and as she explains, "Everything here makes me happy. Adding Lumina into the mix is the icing on the cake."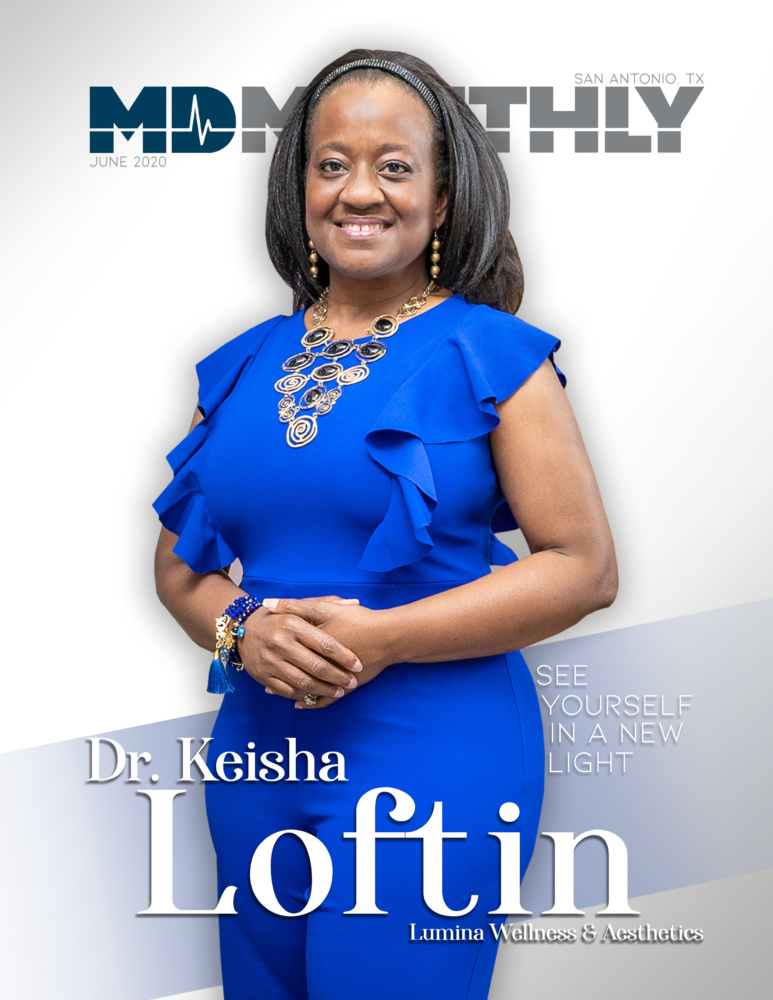 For more information visit: https://luminawellnesscenter.com/
Facebook-@LuminaWellnessSpa
Instagram @ dr.keishaloftin
7922 Ewing Halsell Suite 100
San Antonio, TX. 78229
Or call 210-878-5881